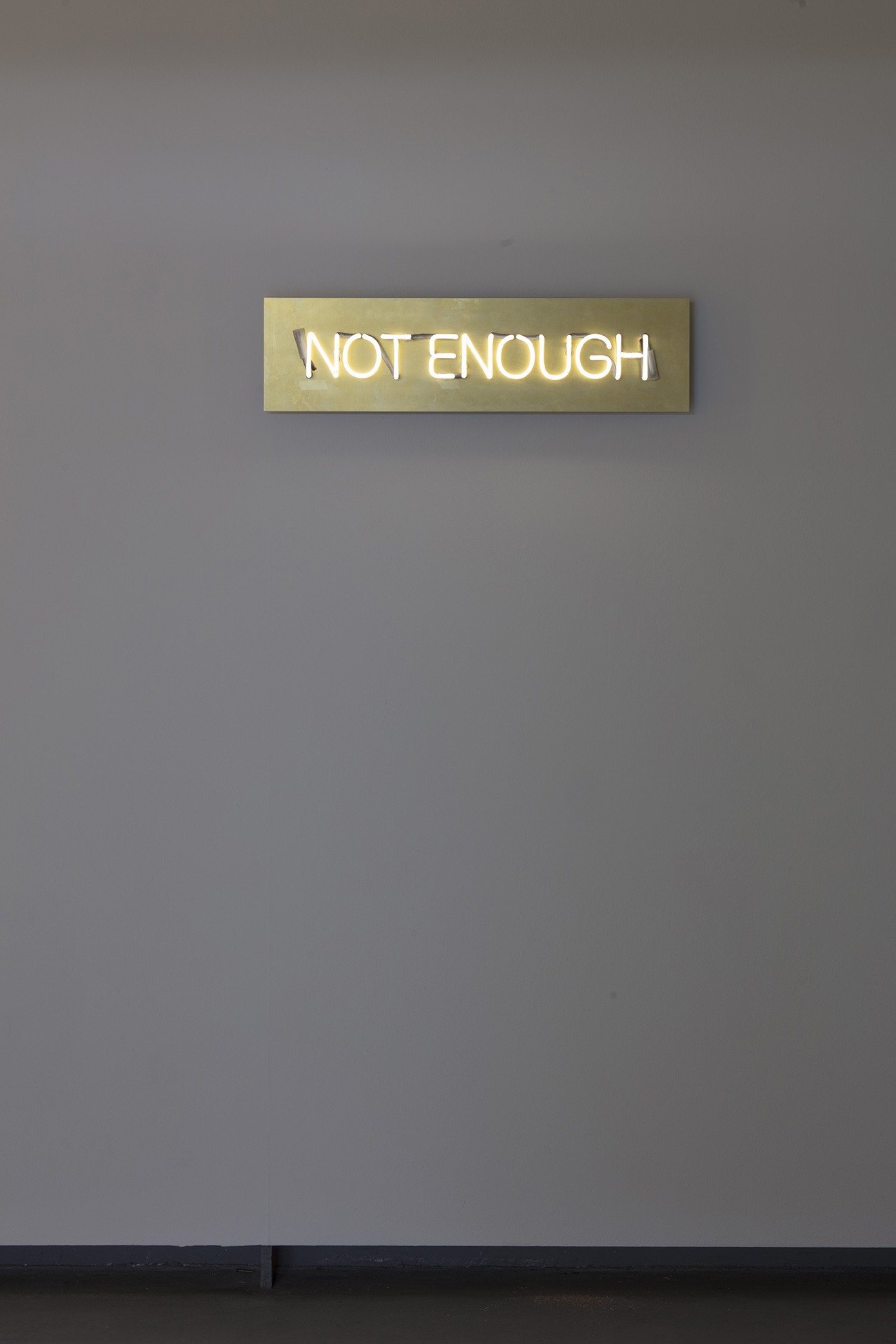 Tinnitus
light, glass, brass, electricity
(lighting rate: 0'3" light on, 0'3" light off); 85 x 18 x 12 cm; 2017








Interstellar
brass; floor piece; 130 x 20 x 3 cm; 2016
To Exit The Solar System This Month
brass, acrylic glass; 130 x 12 x 5 cm; 2017
Situation Is Facing Utter Atrophy
arrangement for two random chairs, wood, PVC, brass, yellow light
various dimensions; 2016









Jet lag
plaster cast of unfolded paper plane,
24 x 36 x 4 cm; 2013
Heard But Not Seen
felt; ~ 75 x 35 x 8 cm; 2017
Resolving Ability
collage, brass, PVC
28 x 19 cm; 2012–16
Stop Looking Over Your Shoulder
No One's There (after Anika's song)
collages on black cardboard; 120 x 80 cm; 2016
&
Resolving Ability
collage, brass, PVC, 28 x 19 cm; 2012–16


Stop Looking Over Your Shoulder
No One's There (after Anika's song)
collages on black cardboard; 120 x 80 cm; 2016










California Rocket Fuel*
graphite on paper, PVC, steel
+ felt, golden thread;
various dimensions; 2016



*California rocket fuel—a medical slang term for the combined administration of mirtazapine (a NaSSA) and venlafaxine (an SNRI). This combination is usually used in the treatment of severe and/or treatment-resistant depression.
California Rocket Fuel*

graphite on paper, PVC, steel
+ felt, golden thread;
various dimensions; 2016
American Dream I & II
photography, brass;
50 x 50 cm; 2013
Tinnitus assembles a body of work made mainly during the residency at Künstlerhaus Bethanien. New arrangements consist of simple forms and gestures, and play with the lightness and weight of forms and meanings. These recent works concern topics such as dream disorders and heartbreaks: mental states that can be individual but are, in a broader sense, social and even global. Tinnitus is a condition where temporary noise appears in the head, not related to any psychiatric condition. The side effects of this phenomenon, however, may include psychological, physical and social problems and general interference with concentration. Although only the sufferer hears the noise, it is not produced in the imagination. The most common cause of tinnitus is exposure to noise. Tinnitus has no scientifically proven treatment or cure, and affects an unknown number of people, varying considerably in intensity and type. Some experience a thumping sound in the same rhythm as their heartbeat.
general views of the exhibition (photographer: David Brand):